Negotiating climate loss and damage
The Paris climate agreement included groundbreaking text on the need to identify risks beyond adaptation and support the victims of climate-related loss and damage—but how exactly it will work remains unclear. An IIASA paper has laid out a framework to point a way forward in these complex negotiations as well as making suggestions for the next steps in research.
It is widely agreed that many countries will need assistance in responding to climate change—indeed some are already suffering sever impacts—yet there has been a contentious debate between vulnerable countries and developed nations about the extent of such assistance and the form that it should take.
In a paper published in the journal Science, researchers from the IIASA Risk and Resilience Program lay out a framework for loss and damage in terms of supporting measures that can help vulnerable people survive, adapt, and even become more resilient in the face of irreversible climate change impacts.
The researchers identify two sets of options where developed and developing countries could agree on international support for coping with loss and damage in addition to support for climate adaptation.
The first set of options refers to support for "curative" measures, which deal with unavoided and unavoidable risks. An example of such measures would be seawalls, needed to cope with rising sea levels caused by climate change. At high levels of warming, impacts become unavoidable, and people may be forced to migrate, for which international legal protection is essential.
The second set of options refers to the concept of transformative risk management—that means building resilience against climate-related impacts while also realizing that people will need support to learn new skills and develop new livelihoods, or even voluntarily migrate to new homes. Transformative risk management goes beyond traditional risk management to enhancing people's resilience more broadly.
In terms of future research, the study concludes that three lines of analysis are of particular importance: (i) ensuring that assessment of climate-related risk is comprehensive; (ii) taking social-science perspective on risk (iii) examining distributive and compensatory justice with regard to burden sharing.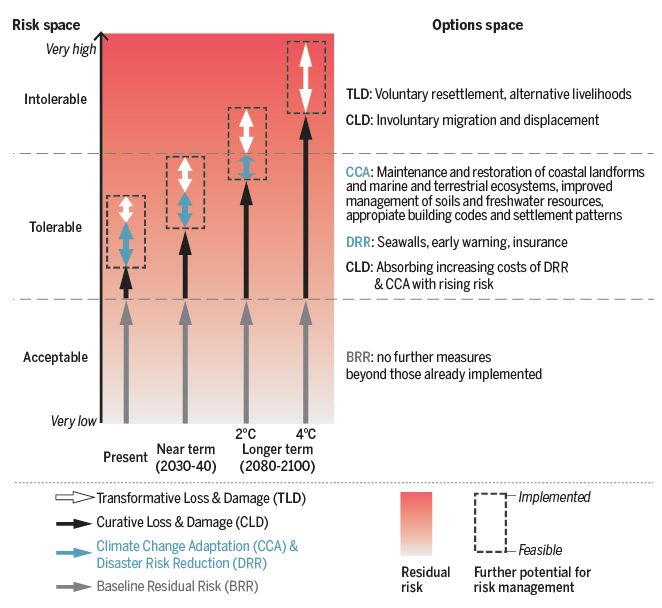 Climate risk management options for small island states. The risk and policy space for Loss and Damage as applied to risks from sea level rise in small island states. The scenarios identify classes of curative measures for unavoided and unavoidable impacts of sea level rise and transformative measures for avoiding and managing increasingly intolerable risks.
Collaborators
Swenja Surminski, London School of Economics and Political Science, UK
Laurens Bouwer, Deltares, Netherlands
Colin McQuistan, Practical Action, UK
Christian Huggel, University of Zurich, Switzerland
Rachel James, University of Oxford, UK
Emily Boyd, Lund University, Sweden
Jeroen Aerts, Institute for Environmental Studies, Netherlands