The people at IIASA are its most valuable asset and the institute continues to attract and retain world-class talent. Researchers from IIASA member countries' working at the institute gain access to new perspectives, methodologies, and funding, and can help build the systems analysis capacity of their home countries. Currently, over 300 international researchers from around 50 countries work for IIASA and another 2,500 researchers, science-to-policy workers, and diplomats from about 65 countries are actively involved in IIASA activities.
People management
Human capital management is of the highest priority at IIASA for the next five years following a period of rapid expansion of the numbers of researchers and staff working at the institute. To that end, a new Head of Human Resources, who also acts as the IIASA Secretary for Administration, was appointed in October 2016, and a new staff performance evaluation system and diversity policy are under development.
In addition to Austrian labor law, a series of federal laws concerning IIASA and international organizations in Austria provide the institute and its employees with a range of immunities and privileges allowing IIASA to offer competitively advantageous employment conditions compared to Austrian employers (Austrian federal law and official gazettes: BGBl. Nr. 117/1973; BGBl. Nr. 677/1977; BGBl. Nr. 344/1978; BGBl. Nr. 476/1978; BGBl. Nr. 441/1979; BGBl. Nr. 219/1981; BGBl. Nr. 609/1990; BGBl. Nr. 666/1994).
Human resource policies and procedures are in place for staff categories, personnel procedures, overtime, leave, maternity regulations, childcare benefits, retirement, temporary assignment, incentive payments, good scientific practice, conflicts of interest and commitment, code of conduct, outside interests, housing services, and health and safety rules. These policies are in the IIASA handbook and staff rules and regulations (sections 4.2 and 4.3 of the IIASA Operating Procedures and Policies). Hiring and extending staff is implemented and documented through the forms and approval processes of the IIASA management information system.
IIASA guidelines and regulations for good scientific practice
IIASA guidelines and regulations for good scientific practice were updated in 2016. They are intended to contribute to avoiding scientific misconduct, conflicts of interest and commitment as well as promoting quality science. The institute recognizes its responsibility to nurture an environment of mutual respect, tolerance, and ethical behavior according to the general principles outlined in these rules. No such cases of scientific misconduct arose in 2016.
Diversity and equality
One of the many characteristics that make IIASA unique is its innovation and legitimacy that stems from its diversity. IIASA has demonstrated the scientific value of bringing together different nationalities and disciplines to work toward common goals, and continues to value diversity and equality. IIASA also recognizes that diversity, while a great benefit overall, brings challenges in terms of managing cultural, social, and geographic diversity.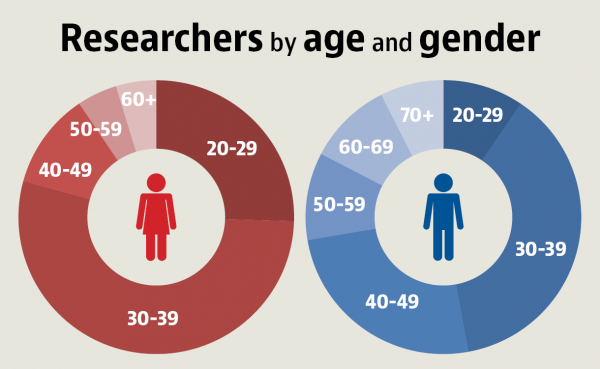 The Committee on Cultural Diversity and Building a Positive Work Environment, made up of staff volunteers appointed by the director general, collected and analyzed employment data at IIASA, conducted a staff survey and prepared the 2015 Report on Diversity and the Work Environment. This set out a series of recommendations for increasing diversity and equality at IIASA.
As part of this report, a gender pay gap was identified. The Human Resources department investigated this gap by looking in detail at each employee's salary to see whether there was pay gap that could be directly related to gender. Disparities in the salaries of around 27 employees were found and in more than half of the cases identified, remedial action has already been taken. The rest will be dealt with in 2017.
IIASA also recruited a new institute counselor in 2016 as a work psychologist to provide counseling related to cultural and social diversity and work environment issues.
The Charter stipulates that at least two thirds of the research scholars should be from NMO countries, and each NMO country has the right to have at least one research scholar at IIASA. With this in mind, IIASA informs the NMOs of researcher vacancies and reports to Council on the numbers and nationality of all its staff.
However, IIASA acknowledges that more can be done and in 2017 a dedicated Diversity Task Force, with the support of an external professional, will produce a Diversity Policy for IIASA. It will aim to increase diversity throughout the workforce, and foster a workplace accommodating diversity of all sorts, spanning culture, gender, race, disability, and religion. The initial terms of reference will include an assessment of diversity, an analysis and benchmark of diversity compared with other organizations, and the development of a vision for a more diverse workforce at IIASA.
IIASA Code of Conduct
All IIASA staff must be treated equally and with respect, regardless of gender, race, religion or belief, nationality, ethnic or social origin, age, sexual orientation, marital status, or other aspects of personal status and no behavior can be tolerated at IIASA that constitutes harassment, sexual harassment, discrimination, bullying, retaliation, or any related acts.
The IIASA Code of Conduct Policy for a Professional Working Environment was updated in 2016. This policy specifically extends personnel procedures to include unprofessional behaviors in the workplace, namely: harassment, sexual harassment, discrimination, bullying, and retaliation.
Responsibilities of IIASA, the staff, and the management are clearly outlined in the Code of Conduct. IIASA staff found to have breached these conditions are subject to disciplinary action in accordance with Article IX, Disciplinary Measures of the IIASA Staff Rules and Regulations. This may include an oral or written reprimand, or summary dismissal in accordance with the applicable Austrian laws. The failure by management to address a violation of the Code of Conduct that has come to their knowledge may result in appropriate legal or disciplinary measures being taken against them.
In 2016 two incidents were brought to the IIASA Human Resource Department and were professionally handled and solved in accordance with the IIASA Code of Conduct.
Learning and development
In addition to scientific education and training, in member countries and though the Young Scientists Summer Program and Postdoc Program, IIASA also supports general and professional staff to develop their skills and expertise to increase their employability and to develop their full potential. Training and development opportunities are agreed upon on a case by case basis between the supervisors and employees.
In 2016 a need to review the current performance evaluation, job level, and job title systems at IIASA was identified, in order to attract top candidates and retain world class talent. Therefore, job levels, job titles, and job criteria will be reworked, job descriptions and classifications will be updated, and existing salary scales will be evaluated and if necessary adapted to be market-compliant. Furthermore, a new system of regular performance reviews, with staff development as a key factor, will be set up. Priority will be given to this important and extensive project in 2017/2018.