Energy and landscape sustainability in Indonesia
To support the government of Indonesia to plan a sustainable energy system, researchers and collaborators from the IIASA Tropical Futures Initiative developed a special version of the institute's BeWhere model. This will develop and assess an alternative energy network for the country, taking into account protection for its natural and cultural heritage.
As climate change progresses, the urgent need for an effective network of renewable energy producers grows. The IIASA BeWhere model tracks the costs and greenhouse gas emissions across every section of such a network. By testing different policy options at every step of the supply chain, the model identifies all possibilities for increasing efficiency and reducing costs and emissions. This provides valuable information on which technologies should be used; the resources needed to create the energy; the best locations for renewables; and the most efficient way to distribute energy to the consumers.
In 2016, researchers from the Tropical Futures Initiative adapted the model for Indonesia, considering renewable energy technologies—such as solar and geothermal—alongside existing coal plants, which could be adapted to burn a mix of coal and biomass.
Using the model, the team will identify an optimally adapted renewable energy mix for the country. To ensure holistic sustainability, the researchers will include nature protection and cultural heritage areas, where biomass harvesting and power plant sites will likely be limited—depending on the protection type and renewable energy technology.
For Indonesia to achieve its goal of having renewable energy make up a 23% share of the national energy mix by 2025, biomass for bioenergy is required from across the country, the model results show (top graph). When the model takes into account conservation areas, the picture is different, allowing decision makers to examine all aspects of sustainability policy (bottom picture).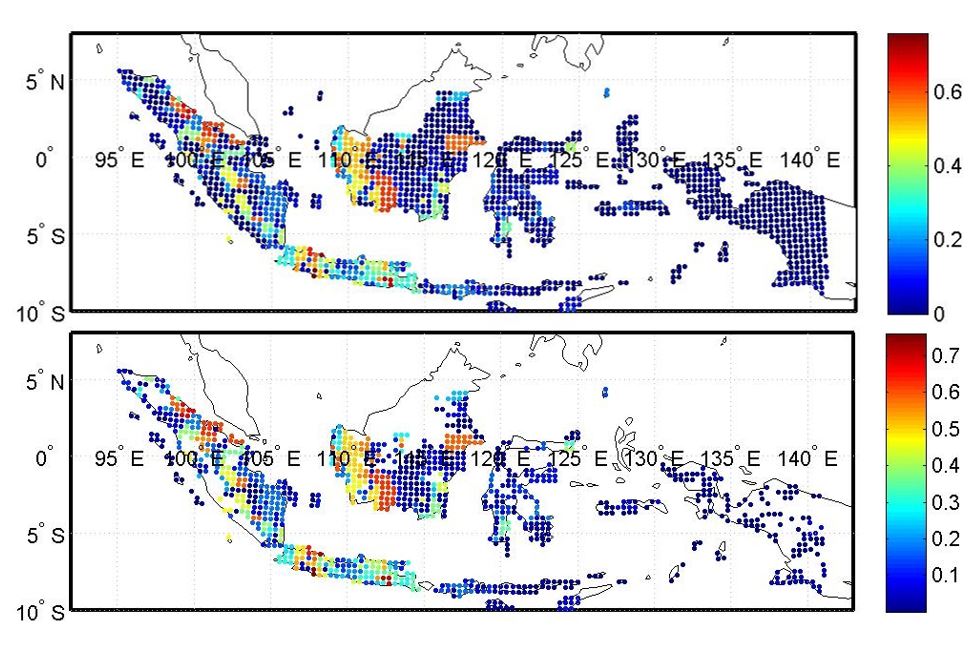 Biomass use intensity for bioenergy production for 23% renewable energy contribution to the Indonesian energy mix considering all forest wood possibly available (top graph) and omitting the primitive forest (bottom graph).
This work is part of an online decision-support platform focusing on renewable energy development in Indonesia. The portal aims to be a one-stop shop for data on renewable energy resource availability, as well as providing user-friendly analysis tools that policymakers can use to make sound decisions.
Collaborators
World Resources Institute Indonesia
Ministry of Energy and Mineral Resources of Indonesia