Building security for farmers in Ethiopia
Smallholder farmers in Ethiopia are especially vulnerable to the threats of climate change, but by expanding irrigation, providing subsidies for fertilizers, and investing in infrastructure, policymakers can improve smallholders' income and food security, IIASA research has shown. The work also provided input to the Global Biosphere Management Model, leading to insights into the effects of different policy measures regarding food security and poverty.
In Ethiopia, 84% of the population lives in rural areas, where they produce 90% of the country's grain with, on average, less than one hectare of land per person. A rapidly increasing population, along with climate-related disasters like droughts, and competition for land, water, and energy, are threatening livelihoods and food security in the country.
In a study funded by the International Fund for Agricultural Development (IFAD), IIASA researchers from the Ecosystems Services and Management Program set out to map the distribution of different types of smallholder farms in terms of poverty and food security. The team developed a new methodology based on: agro-ecological zone (i.e., biophysical environment and climate), farm size, main activities, and intensity of production.
The researchers analyzed the effects of three policy interventions on poverty and food security:
the development of infrastructure networks to improve access to markets;
the development of irrigation infrastructures to increase production;
fertilizer subsidies to increase production.
Overall, a combination of irrigation expansion with infrastructure development and fertilizer subsidy would be most beneficial for smallholder income and overall food security, the researchers found. The results showed that livestock-oriented systems are less profitable than crop-oriented systems and more prone to food-insecurity.
This work, valuable in itself, also served as input to the IIASA Global Biosphere Management Model. This country-specific, household-level data improved the model in terms of both its production and consumption analyses. For Ethiopia, it meant that farming systems could be modeled in such a way that allows for transitions from one type of farming system to another, important for assessing the policy options of the future.
The results were used to provide support to Ethiopian policymakers, as well as helping to define the most suitable locations for irrigation schemes in the second phase of an IFAD project, the Participatory Small-Scale Irrigation Program.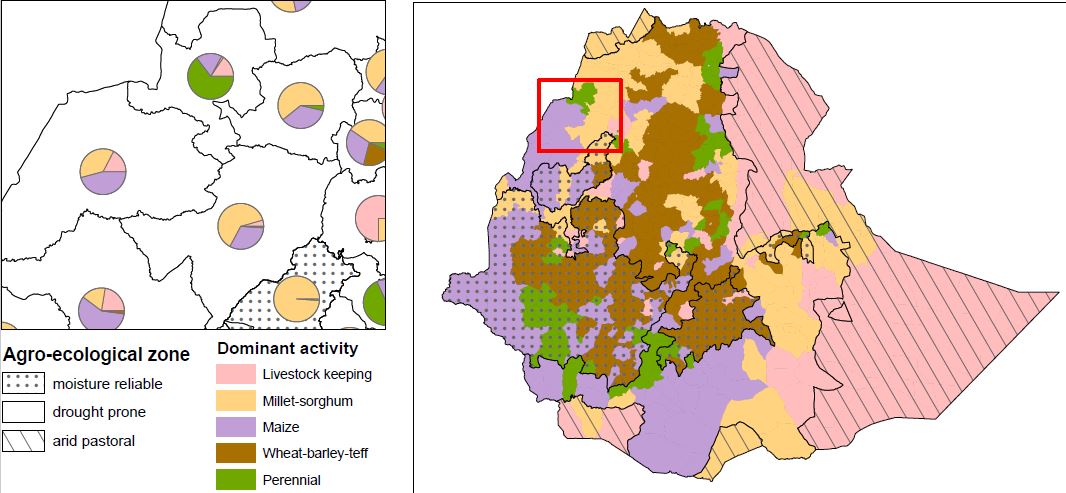 Dominant combinations of activities and agro-ecological zone by district (known as woreda in Ethiopia) (right) and the distribution of farming systems for the subset in the red rectangle (left).
Collaborators
Research and Impact Assessment Division, International Fund for Agricultural Development, Italy