Membership of IIASA
According to the Charter, membership of IIASA is open to one professional institution from any country as long as it represents the relevant scholarly community of the country, subscribes to the IIASA Charter, and meets the financial obligations of membership. IIASA Council votes on each country's application to join IIASA and also on whether to discontinue a country's membership.
In June 2016, the IIASA council agreed to accept Iran as a new member country, represented by the Iran National Science Foundation as the National Member Organization (NMO). It also accepted the request from Pakistan to change their membership status to observer, taking with effect from 1 Jan 2017. The council also reviewed the IIASA membership strategy and discussed and agreed on new countries to target for membership.
National Member Organizations
Each IIASA member country designates a NMO to represent the nation's scholarly community and act as a bridge to link their research and policy communities to IIASA. The NMOs are one of three types: national academies, government research funding agencies, or autonomous organizations or committees. Through its NMO each member country has two main roles: (1) governance of IIASA through its representative Council Member for IIASA and (2) acting as a bridge between IIASA and national stakeholders.
In June 2016, the IIASA Council approved the transfer of membership in Brazil to the Brazilian Federal Agency for Support and Evaluation of Graduate Education (CAPES). Most of the NMOs have National Committees to assist in the responsibilities of IIASA membership. The size of the committees range from 8 to 31, and members are generally chosen because of their expertise in relevant fields of research, because they are representatives of interested institutions, or because they have experience of IIASA.
IIASA NMOs and Council Members
On 31 December 2016 IIASA had 24 member countries, represented by the following NMOs:
AUSTRALIA The Commonwealth Scientific and Industrial Research Organisation (CSIRO)
Council Member: Dr. Peter Mayfield
AUSTRIA The Austrian Academy of Sciences (OEAW)
Council Member: Professor Dr. Gerhard Glatzel
BRAZIL The Brazilian Federal Agency for Support and Evaluation of Graduate Education (CAPES)
Council Member: Professor Concepta (Connie) McManus Pimentel
CHINA National Natural Science Foundation of China (NSFC)
Council Member: Professor Congqiang Liu
EGYPT Academy of Scientific Research and Technology (ASRT)
Council Member: Professor Mahmoud M. Sakr
FINLAND The Finnish Committee for IIASA
Council Member: Dr. Lea Kauppi
GERMANY Association for the Advancement of IIASA
Council Member: Professor Dr. Helga Weisz
INDIA Technology Information, Forecasting and Assessment Council (TIFAC)
Council Member: Professor Prabhat Ranjan
INDONESIA Indonesian National Committee for IIASA
Council Member: Professor Dr. Kuntoro Mangkusubroto
IRAN Iran National Science Foundation (INSF)
Council Member: Professor Nosratollah Zargham
JAPAN The Japan Committee for IIASA
Council Member: Professor Dr. Kazu Takemoto
KOREA, REPUBLIC OF National Research Foundation of Korea (NRF)
Council Member: Dr. Moo Je Cho
MALAYSIA Academy of Sciences Malaysia (ASM)
Council Member: Professor Datuk Dr. Asma Ismail
MEXICO Mexican National Committee for IIASA
Council Member: Dr. Julio A. Santaella Castell and Dr. Enrique Cabrero Mendoza
NETHERLANDS Netherlands Organization for Scientific Research (NWO)
Council Member: Professor Dr. Stan Gielen
NORWAY The Research Council of Norway (RCN)
Council Member: Dr. Kirsten Broch Mathisen
PAKISTAN Pakistan Academy of Sciences
Council Member: Professor Dr. Kauser Abdulla Malik
RUSSIA Russian Academy of Sciences (RAS)
Council Member: Academician Professor Alexei Gvishiani
SOUTH AFRICA National Research Foundation (NRF)
Council Member: Dr. Dorsamy (Gansen) Pillay
SWEDEN The Swedish Research Council for Environment, Agricultural Sciences and Spatial Planning (FORMAS)
Council Member: Dr. Ingrid Petersson
UKRAINE Ukrainian Academy of Sciences
Council Member: Academician Professor Dr. Anatoly G. Zagorodny
UNITED KINGDOM Research Councils of the UK
Council Member: Professor Duncan Wingham
UNITED STATES OF AMERICA The National Academy of Sciences (NAS)
Council Member: Professor Donald Saari
VIETNAM Vietnam Academy of Science and Technology (VAST)
Council Member: Professor Dr. Ninh Khac Ban
As the governing body of the institute, the IIASA Council is composed of one permanent representative from each NMO. The Council meets twice a year, in June and November. The Charter and subsequent resolutions of Council document the role of Council, its processes, and decisions.
The Council is responsible for: establishing relations with government and international bodies; determining financial and managerial policies and subject areas for IIASA research; and ensuring IIASA activities are in line with its objectives, the provisions of the Charter, and the interests of the NMOs. The Council elects a chair and vice chairs who are the officers of the Council.
On 11 November 2014 Don Saari was appointed as the chair of the council, with Alexei Gvishiani and Prabhat Ranjan acting as vice chairs. Their term runs until 31 December 2018.
The Council appoints the director general and the deputy director general (the Directorate) who, as the chief executive officers of the institute, are responsible for implementing the research program and managing the day-to-day operations. In 2012, the Council appointed Professor Dr. Pavel Kabat as the 10th Director General of IIASA. Kabat, a Dutch citizen, came to IIASA from Wageningen University in the Netherlands. Professor Dr. Nebojsa Nakicenovic, an expert on how energy systems can be transformed for a sustainable future, is the deputy director general and was first appointed by Council to this role in 2008.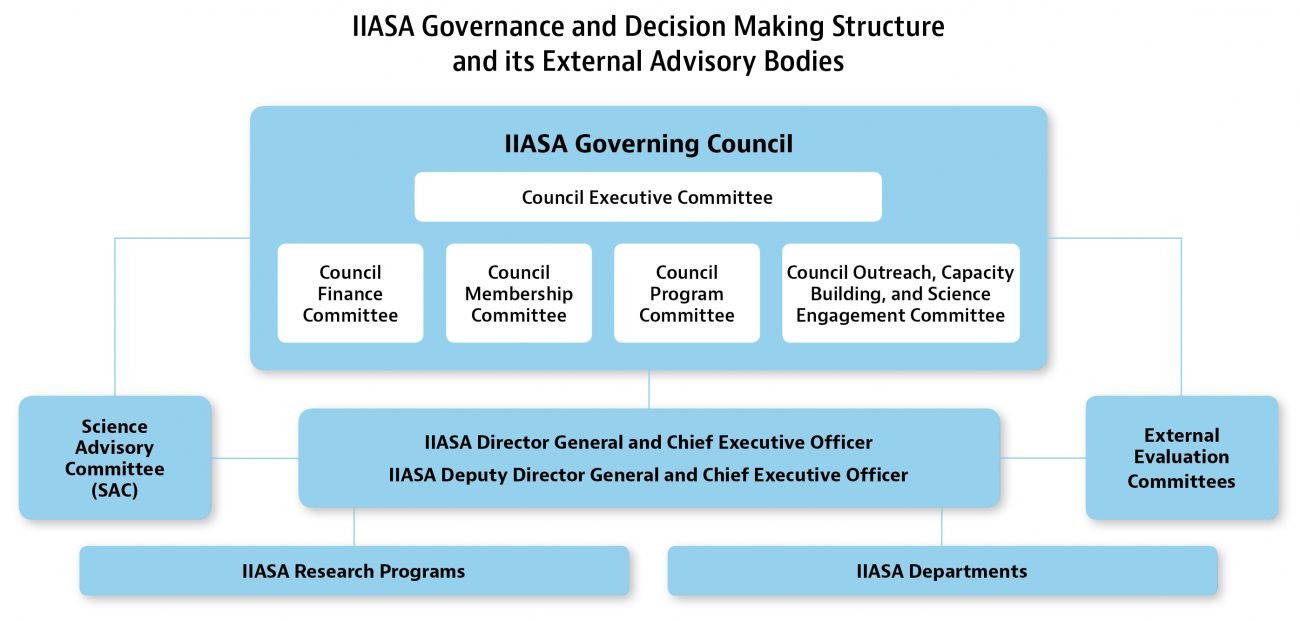 Evaluation and quality control
The IIASA Council oversees an array of activities designed to support its responsibility to offer guidance and assure the quality and relevance of IIASA research. It serves as a critical element of NMOs' assurance of the value of IIASA work in return for member countries' contributions.
Every ten and five years the Council provides input to and officially approves the institute's ten-year strategic plan and five-year research plan. In 2015, following a number of rounds of feedback and discussion between Council, the Directorate, and IIASA staff, Council approved the 2016-2020 Research Plan which was bought into effect on 1 January 2016.
The Council also organizes periodic evaluations of IIASA research by a panel of independent, external experts to ensure IIASA research is of the highest quality and is aligned with the institute's research plan. In June 2012, the Council approved a new cycle of external evaluations which has reviewed the research quality, policy relevance, and effective use of systems analysis of all nine research programs. The results were overwhelmingly positive.
In 2016 the Council commissioned an institutional review by an independent panel of experts to provide an independent and comprehensive evaluation of IIASA including all structures, processes, and activities. The review aims to answer the overarching question of whether the general mission and ambitions, the organizational structure and governance, and the scientific programs and their policy-relevant implications are fit-for-purpose and future-proof. It will report its findings in 2017. The Council also reviews and approves the IIASA Annual Report, giving an overview of the year's achievements.
Another component of research oversight is the IIASA Science Advisory Committee (SAC). The SAC, established by the IIASA Council in 2002, comprises 15 international experts in fields relevant to IIASA research and its science-to-policy portfolio. SAC has an academically and geographically diverse membership—based partly on nominations from NMOs—and includes experts in the main areas of IIASA research. In 2016 its role continued to be to provide expert, independent, expert advice to the IIASA Council and Directorate to ensure that the institute's work continues to meet highest scientific and policy-relevance standards.
In addition, individual NMOs may undertake periodic reviews of IIASA research as part of their funding renewal processes. In 2016, the Dutch NMO, the Netherlands Organization for Scientific Research conducted an evaluation of its membership of IIASA and recommended to "continue Dutch membership at IIASA for 5 years."
The IIASA Council exercises its oversight responsibilities through a committee structure: an Executive committee, a Finance Committee, a Membership Committee, a Program Committee, an Outreach and Capacity Building Committee, an external Science Advisory Committee, and external Evaluation Committees.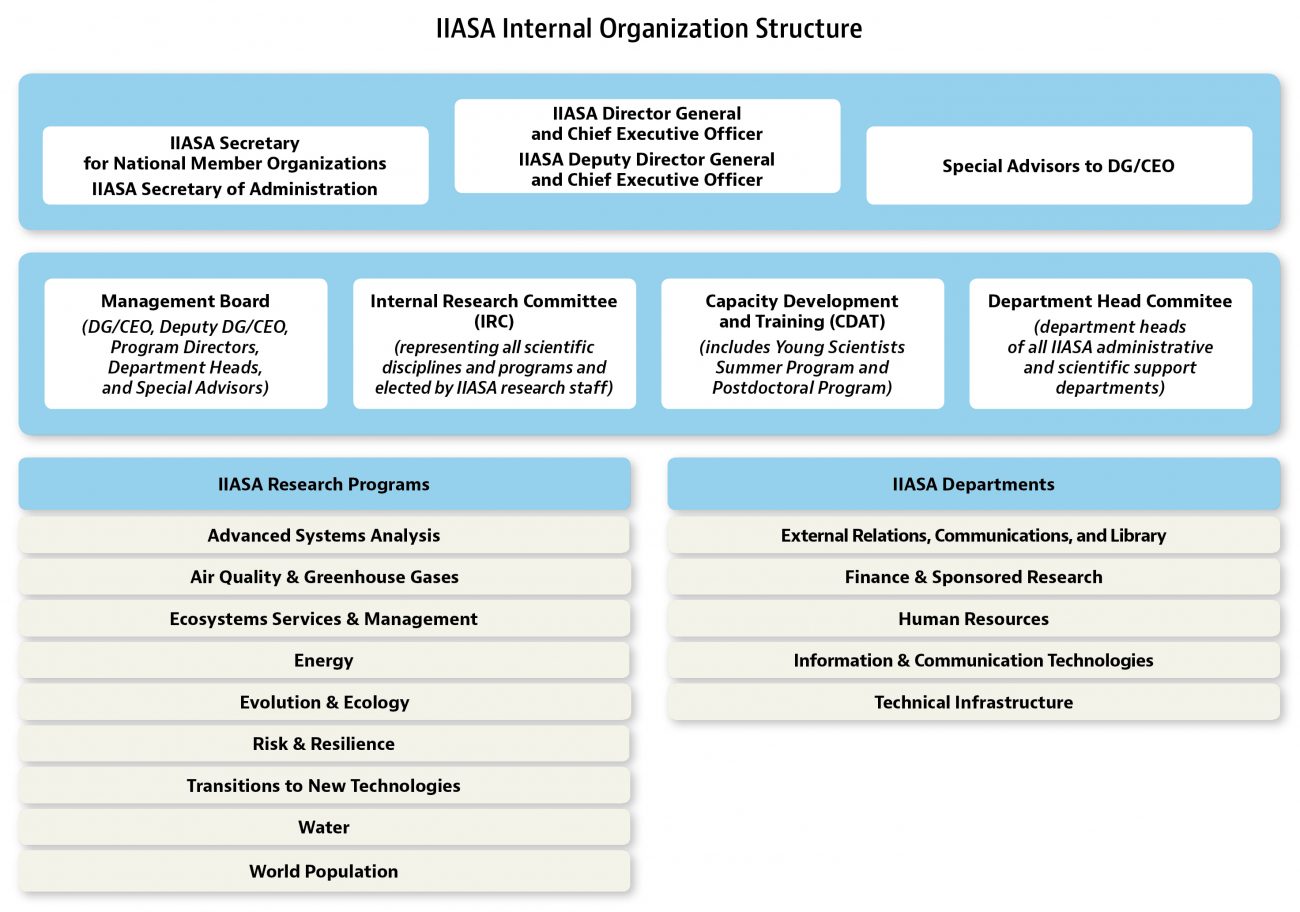 The internal decision-making authority is held by the Directorate as specified by the IIASA Charter (Article IX) and consistent with Austrian law.
Along with the internal advisory committees—the Management Board, Internal Research Committee, Department Heads Committee, and Capacity Building and Academic Training (see diagram)—a number of ad-hoc committees to advise the Directorate on important institutional matters have been established in the last four years. These include the Committee on Cultural Diversity and Building a Positive Work Environment, Open Access to Data Taskforce, Project Management Taskforce, Contact Database Task Force, and Information and Communication Technologies Forum. All these committees have a consultative and advisory role with decisions taken by the Directorate.
Administration, infrastructure, and services
IIASA research is supported by high-quality administration, infrastructure, and services. The current administrative departments include:
External Relations, Communications, and Library
Finance and Sponsored Research
Human Resources
Information and Communication Technologies
Technical Infrastructure
In 2016, responsibility for NMO-relations was added to the Communications, Library, and Media department to form the new External Relations, Communications, and Library department.
Operating rules and procedures
In 2016, IIASA undertook a stocktake of all documented operating rules and procedures and is currently in the process of standardizing these to ensure consistency, transparency, accessibility, and best practice. This process, which will be completed in 2017, will also enable the institute to identify rules and procedures that need to be updated, better documented, or both.
Compliance and risk management
Compliance with constructive policy is important for IIASA, in the wider institute as well as for risk management. Although risks are always considered when management makes decisions at IIASA, the institute does not systematically assess mid- and long-term risk and does not systematically manage for it. Compliance to IIASA rules and policies is also not systematically monitored or assessed, and there is a lack of in-house expertise on how to implement compliance.
In 2016 Council asked IIASA to develop a risk register in order to manage risk over the long term and to conduct an external review of compliance and assurance processes. IIASA Directorate began preparations by seeking the advice of a governance and compliance expert from one of the NMOs, who visited IIASA in February 2017.