In the first study of its kind, IIASA researchers assessed the skills, attitudes, and values of asylum seekers and refugees, showing that those who entered Austria in the summer and fall of 2015—especially those from Syria and Iraq—are fairly well educated, have rather liberal values, and come from predominantly middle-class backgrounds.
To assess the integration potential of refugees, it is important to learn about their education, professional qualifications, attitudes, and hopes for the future. The new study from the Vienna Institute of Demography and IIASA World Population Program investigated these features for the first time in a German-speaking country.
Contrary to the widely held views that asylum seekers and refugees are uneducated, the study showed that almost half of the respondents from Syria and Iraq had completed secondary education, and more than a quarter had at least obtained a post-secondary degree, such as a high-school diploma or a higher education degree. This is roughly the same as the percentage of people with post-secondary education currently resident in Austria, according to the research team.
For the study, which was published in the internationally renowned journal PLOS ONE, a team of researchers surveyed 514 asylum seekers and refugees from both sexes and different ages, mainly from Syria, Iraq, and Afghanistan, in November and December 2015, leading to a sample of around 1,400 people. Face-to-face interviews were conducted to question respondents about their origins, education, professional experience, marital status, attitudes, values, and future plans.
The high level of education is reflected in the values and attitudes of the respondents, who overall view themselves as not particularly traditionally oriented. Asylum seekers and refugees in Austria consistently identified themselves as more liberal than the population in their home countries, assessed using the "World Values Survey," which investigates attitudes on issues such as religion and gender relations in Arab countries. Nearly a quarter of the respondents declared themselves not to be religious at all, and a significant majority of the surveyed men and women agreed with the statement that "having a job is the best way for a woman to be an independent person."
The researchers hope that these results will contribute scientific facts to the public debate about the integration of asylum seekers and refugees. According to World Population Program Director Wolfgang Lutz, the study implies that "the potential for integration of refugees who came to Austria last year is encouraging: high education levels, rather liberal attitudes, and a firm affiliation with the middle classes of their respective countries of origin are good conditions for fostering successful integration into European societies."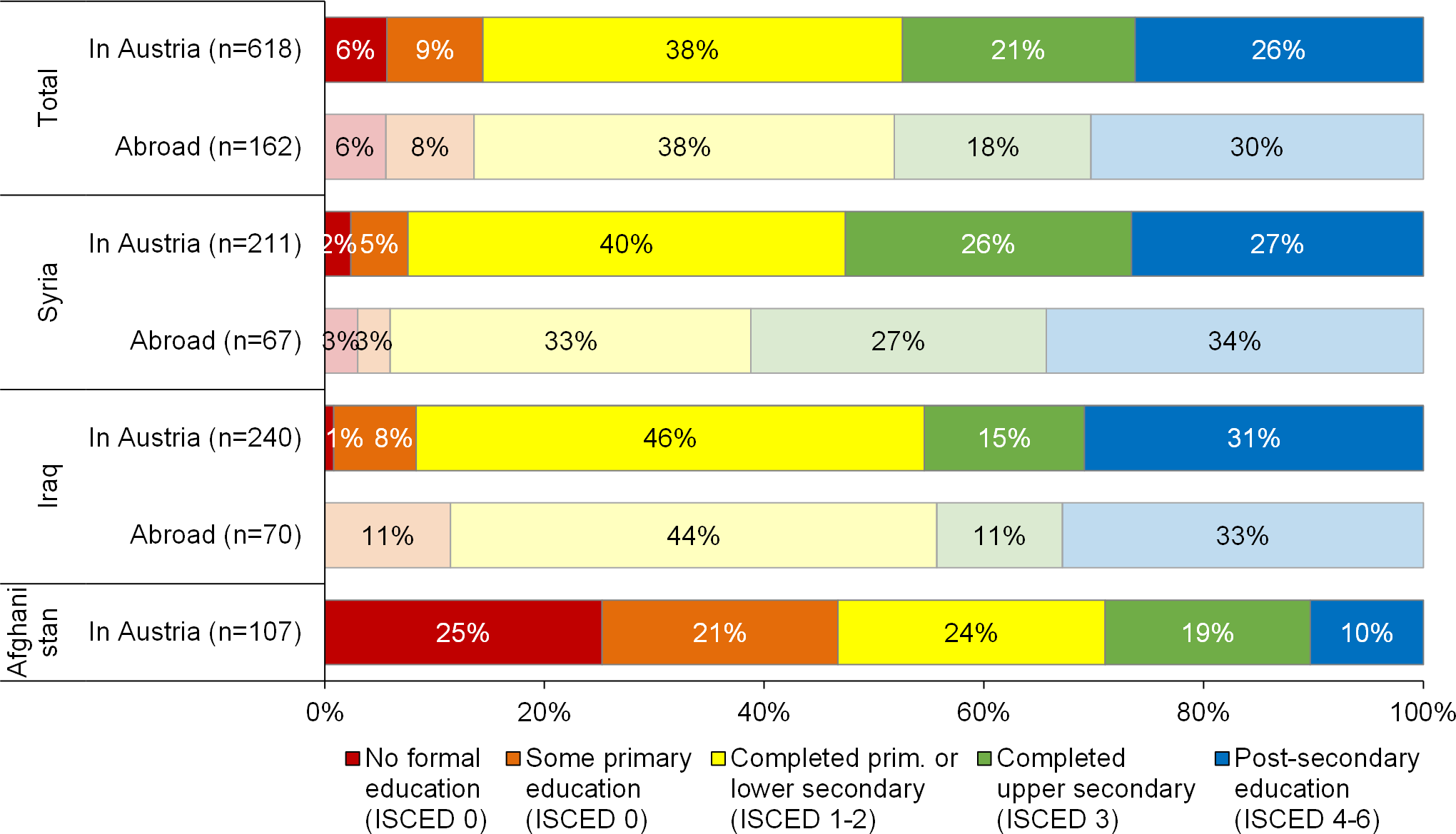 Educational attainment of asylum seekers surveyed and their spouses and adult children in Austria (saturated colors) and abroad (pale colors), 20–59 age group. Source: DiPAS
References
[1] Buber-Ennser I, Kohlenberger J, Rengs B, Al Zalak Z, Goujon A, Strießnig E, Potančoková M, Gisser R, et al. (2016). Human Capital, Values, and Attitudes of Persons Seeking Refuge in Austria in 2015. PLoS ONE 11 (9): e0163481.
Collaborators
Vienna Institute of Demography (VID), Austrian Academy of Sciences, Austria
Vienna University of Economics and Business (WU), Austria