Russian Demographic Data Sheet
The IIASA Russian Demographic Data Sheet 2016 reviews key population trends in Russia, and gives a population projection for the country for 2035. The sheet allows experts to analyze the country's regional demography and demographic processes.
The Russian Demographic Data Sheet 2016, available in Russian and English, uses a number of the latest demographic indicators regarding population growth and aging, many of which were calculated for Russia for the first time. Led by World Population Program Deputy Director Sergei Scherbov, the sheet uses cutting-edge mortality, fertility, and migration models—more sophisticated than previously available. These were used by the researchers to evaluate age-specific transitions and transition rates based on the aggregate scenario definitions prepared by the Russian Federal State Statistics organization.
A unique feature of the data sheet is the introduction of new measures of aging, developed at IIASA. These include the "prospective old-age dependency ratio." The traditional old age dependency ratio relates the number of "old-age dependents," who are assumed to be everyone 65+ years old, to those assumed to support them, people from 20–64. However, rather than assuming everyone over 65 is dependent, the prospective old-age dependency ratio defines an old-age dependent as someone with a remaining life expectancy of 15 years or less. Variation in the number of individuals with a remaining life expectancy of 15 years or less was calculated for each region of Russia, and presented for the first time.
Additionally, a zero-migration scenario was also introduced. It allowed evaluation of the consequences of internal and external migration on population size and composition in regions within Russia. The zero-migration scenario led to a population reduction of about 4% by 2035 compared to contemporary population size, while the scenario including migration led to a basically unchanged population size.
The data sheet was presented at the high-level Gaidar Forum in January 2017 in Moscow. In a dedicated session at the conference, Scherbov presented the methodological background of the applied new methods and the major results to journalists, scientists, and policymakers from across Russia.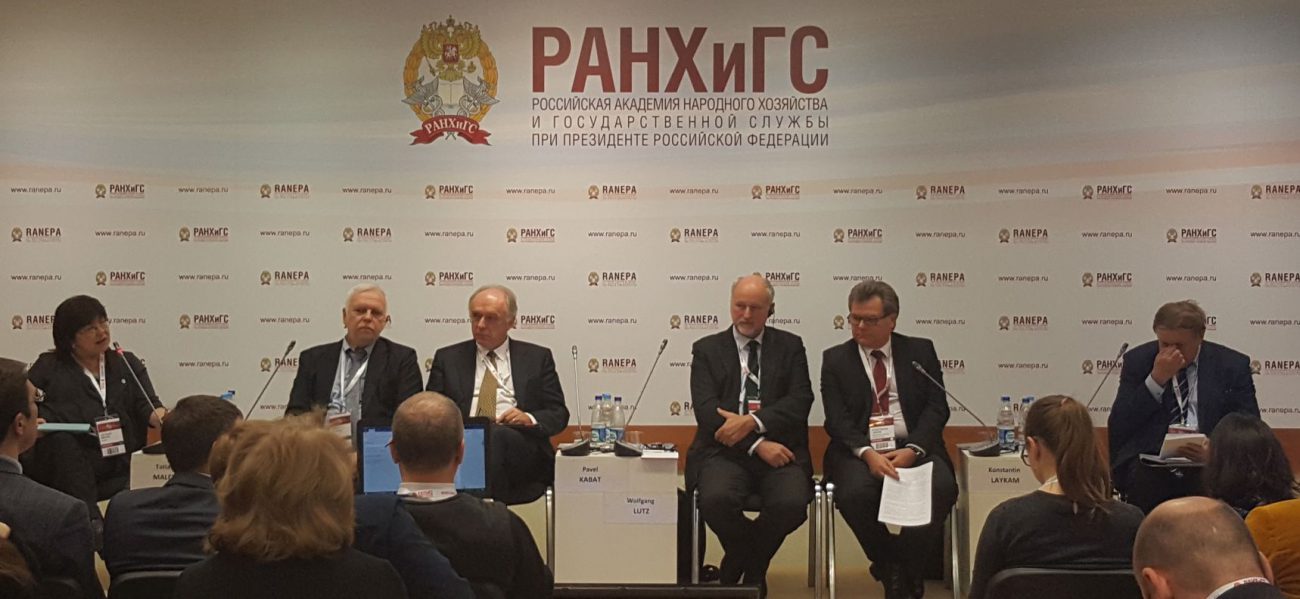 The Russian Demographic Data Sheet presentation and panel discussion at the Gaidar Forum. From left to right: Tatyana Maleva (director at the Institute of Social Analysis and Forecasts), Sergei Scherbov (IIASA World Population Program Program deputy director), Professor Dr. Pavel Kabat (IIASA director general and CEO), Wolfgang Lutz (IIASA World Population Program director), Konstantin Laykam (deputy head of the Federal Service of State Statistics), and Valery Yelizarov (head of the Center for Population Studies, Lomonosov Moscow State University).
References
[1] Presidential Academy of National Economy and Public Administration, Russian Federal State Statistics Service, & the International Institute for Applied Systems Analysis (2016). Russian Demographic Data Sheet 2016. RANEPA, Rosstat, and IIASA: Moscow, Russia and Laxenburg, Austria.
Collaborators
Russian Presidential Academy of National Economy and Public Administration
Russian Federal State Statistics Service